New York - Manhattan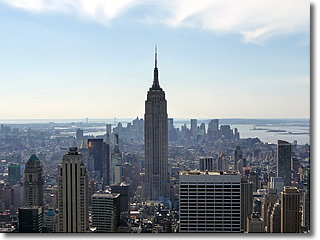 New York, New York New York.. There is nothing quite like it! A metropolitan packed to a very small piece of land that has to grow upwards. There is so much you can do here and that is one of the reasons why New York is one of my top places to visit. Enjoy the skyscrapers and take a boat trip to Ellis Island to see the Statue of Liberty. Top of the rock offers great views over the city and you can see the Empire State Building from there as well. Visit Central Park for a nice walk. You can practically walk through the whole Manhattan is you wish.. 63 blocks took me only 58 minutes :). Bronx Zoo has some interesting animals e.g. Gorillasa and don't forget the great museums like MOMA and Metropolitan Museum of Art. If you are into shopping and like electronics as I do, don't forget to visit the legendary B&H Photo Video. Even if you are not buying anything, visiting that place is an experience with the Jewish staff and the products automatically moving on rails from storage to the store. You need to see this in order to fully get the idea, it's impressive :)
New York is still much more than the basic sights.. There are a great variety of good restaurants and excellent live music, especially Jazz music in clubs like Blue Note and Birdland. Don't forget to try the Bubby's Pie Factory and the delicious Michigan sour cherry pie - you'll love it!
Brazil - Rio de Janeiro samba carnival
Rio de Janeiro is one of the best places on earth, maybe even the best :) The city has its special vibe, a contrast of beutiful places and dangerous slums. The samba carnival is a spectacle with everything that is happening around it. The whole city is basically a one big party and it is something worth seeing! Enjoy the great beaches of Cobacabana and Ipanema, take it easy and drink some Caipirinha.. preferably many! Get a guitar (Di Giorgio is good) and go to the beach during the evening and play "The Girl From Ipanema" to really get to the right mood.
Although Rio is pretty close to a paradise on earth, you should be careful. There is a very big favela (slum) located next to Cobacabana and there are lots of robberies and other unpleasant stuff going on in the evenings when it's dark. I got a taste of this having a 20cm knife on my throat but that taught me to be more careful during the night. This can unfortunately happen almost anywhere nowadays.
By the way.. when you have taken a little too much Caipirinha last evening and you go to the supermarket for a bottle of water, you will face a tough choise.. A bottle of booze is cheaper than a bottle of water ;)
Colombia - Ciudad Perdida
If you want a real trekking experience in great surroundings, you might want to consider doing the 5-6 day trek to the lost city (Ciudad Perdida) in Colombia. You can book the trip from Santa Marta (and while travelling around there you can visit beautiful Cartagena). The hike is a really nice experience and quite safe, although you might encounter some armed Colombian drug cartel soldiers and you will definately see big coca plantations there. The Ciudad Perdida is very nice, but I think that the actual hike there offers even better views and memorable experiences. There are simple camp sites along the way where you will sleep in hammocks and enjoy the food prepared by the guides while sitting next to a camp fire and sipping some of that great local rum. Colombia in general is far safer and more interesting than one would expect. I really want to go again and explore more of this beautiful country!
Brazil - Pantanal
It's not Amazon, it's something even better! This tropical wetland (worlds largest wetland!) area next to the Bolivian border of Brazil is definately a place to visit if you want to see some animals and enjoy the camping spirit! At least on our tour (Ecological Expedition, booked from Campo Grande) you will sleep on hammocks next to Rio Grande river right next to hundreds of alligators.. It's a funny feeling pointing your flashlight towards the river during the nighttime.. You will see the glowing eyes of the alligators. During the daytime there are some nice walks and treks where you will see some wild animals and plants. There are small forest areas here and there in this large flat swamp area and all of the animals are packed there. Therefore spotting the animals is very easy and they can't practically run away too far :) On one day we had our trek with horses (this is the wild west of Brazil!) and were chasing a giant anteater thought the forest area. You will also see lots of quatis, anacondas and other snakes, spiders (maybe even in your shoe!), birds etc. This has been the best and most exotic nature trip so far!
Panama - San Blas islands
If you want to enjoy sunshine, paradise islands and the company of Kuna indians, head to San Blas islands on the shore of Panama. You can take a 20-seat small airplane from Panama City that will take you to one of the islands landing on a ~100m long airstrip. That's quite awesome! You will be taken to you accomodation with a canoe by the indians. You will be able to see many small islands, swim, fish and enjoy the food that the guys actually catch fresh from the sea. Relax in a hammock and let the small breeze make the weather just perfect. Remember to taste some Abuela rum and don't wonder if you end up fishing with only a line and a hook..If the place is right, you will probably catch a shiny silver fish with every throw like I did!
Japan - Tokyo
Tokyo was quite an experience for me.. Everything there is just a bit weird for a Scandinavian taste ;) The food in Japan is really different to any other cuisine in the world and should be experimented widely.. Sometimes you have problems defining what you just ate but don't let it bother you - everything is really fresh and made out of high quality incredients! If you have the change in Japan or some place else, try Teppanyaki with a group of friends: a cook with an iron griddle and a great show. It might cost you a bit but it's worth it! Tokyo is the biggest city in the world and has many things to do!.. Pay attention to the people, see millions of vending machines, visit a manga book store, and try a game of Pachingo slot. It's nice to be in a totally Different world for a chance - without understanding a word :) When you visit the toilet, make sure to try all of the buttons!
Argentina - Iguazu waterfalls
The Iguazu falls consist of 275 discrete waterfalls and the longest drop is called Devil's Throat with the height of 82 meters. There are higher waterfalls but most people consider Iguazu to be the most impressive. The Iguazu falls are situated on the border of Brazil, Argentina and Paraguay. Devil's throat can be viewed from the top when accessing the falls from the Argentinian side. You can take a boat tour under the falls (prepare to get really wet!) and try many different walkways that access the falls from different sides. The views from the top are spectacular! There are some nice posadas on the Brazilian border in Foz do Iguazu where you can get decent priced accommodation so that you can have a fresh start to the falls in the morning.
Iceland - Golden Triangle
Iceland was a different experience, especially during the winter time. Visiting Gullfoss waterfalls without practically any tourists was a pleasure. Geysir was amazing.. you always want to wait another 5-6 minutes to see the burst over and over again :) Small roads and beautiful sights that change from very Scandinavian views to something so different that you start thinking of being on another planet. The views were especially nice around Thingvellir national park. Car rental was cheap and very recommended way to travel around Iceland. Be sure to also explore Reykjavik and visit the famous Blue Lagoon spa. It was quite a nice contrast to be in almost 40c water while it was -4c outside :) Iceland also offers a great variety of exotic food to sample. I really loved Minke whale (not endangered!). I didn't like Puffin that much, but it was worth trying anyway. Because of the economic crisis ongoing during my visit in late 2010, the prices were more affordable than ever before! By the way, the picture on the main travel page is also from Iceland.
Peru - Machu Pichu
Machu Picchu - One of the greatest sights you can find.. well, yes.. It is touristic, what can you expect! Beatiful sights and famous places usually attract a large number of tourists. There are lots to explore in Machu Picchu. Be sure you also pose with a llama! You can easily book a trip to Machu Picchu from Cuzco which is worth a visit as well.. Cuzco is a very nice city with a relaxed athmosphere.. The altitude there is over 3400 meters that makes the mornings quite cold. Make sure you drink some coca leaf tea (mate de coca). It helps to the altitude sickness symptoms that may come quite easily at this altitude. When you have experienced the Machu Picchu, remember to also try the great soda drink called Inca Cola. I still miss that weird yellow stuff :)
Ecuador - Amazon
Amazon is a great place to visit if you wish to see some nice rainforest, enjoy the heat, and maybe see some small animals and insects. Don't expect to see any big mammals or anything like that.. You might, but then you are really lucky. The thich rainforest gives the mammals a great opportunity to hide from you. Nevertheless, it's a great experience to see the sights, plants, Huaorani indians (the warriors of Amazon), and maybe even get a tarantula on your head (scared me at least!). My choice of Amazon trip was the budget option through the city of Coca from Ecuador. It costs only a fraction of what the prices are e.g. for Rio Amazon cruises.
Caribbean cruise with Liberty of the Seas
Ok.. This is something totally different :) Taking a one week cruise with a Finnish built Caribbean cruiser might sound a bit middle aged but just get over it and give it a go! The Royal Caribbean Liberty of the Seas was an awesome boat.. Imagine cruising between Caribbean destinations, hanging around on your own terrace and drinking cold drinks. The ship offers a great variety of entertainment from top of the line musical theatre plays to ice skating, basketball, mini golf, rock climbing and surfing! The food and service on the boat is something that you will miss after the trip :) Our destinations included Haiti, Cayman Islands, Jamaica, and Mexico. There are many daytrips and activities that you can book while visiting the different destinations. I especially enjoyed a trip in the Cayman Islands to go to see Stingrays. There were literally hundreds of them and you could pose with them holding one in your hands while standing in the water waist deep.
USA - Las Vegas
What happens in Las Vegas, stays in Las Vegas.. or what was the slogan? It's so articifial that you need to see it.. You can easily spend few days wondering from a casino to another, having some drings on the way and gambling a bit of course. Enjoy the evening shows in the casinos, see Manhattan and Eiffel tower during the same day....There are also many nightclubs and other things to do in Las Vegas.. The Star Trek expedition was quite interesting to a Star Trek fan like me :) You should also try the rollercoaster on top of the Stratosphere tower at almost 300 meters!
Kenya - Masai Mara
Lets face it.. If you want to see most of the biggest mammals and other wild animals without going to a zoo, you need to take a safari. Seeing lots of animals is granted.. lions, zebras, elefants, giraffes - you name it! The lodging will vary depending on your budget from very basic to luxury lodges in the middle of the safari park area. At least I can recommend the Mara Simba lodge where in the evenings you can have your beer on a terrace next to a small river with hippos :) Be sure to take your best camera with a good zoom lens with you. For that reason, I wish to go there again some day for even more photos!
India - Srinagar
Srinagar is a very exotic place to visit. It's located on the Indian side of Himalayas next to the Pakistan border. Srinagar is known for its lakes and houseboats on the Dal Lake. There you can stay in a houseboat and enjoy the spectacular view of the Himalayan mountains. Just sit on the pier of your houseboat in the morning and see the fog on the lake and the boat taxis starting their day.. The whole place has a very mystic feel to it! You move from place to place with canoes, see lots of local people selling groceries from their canoes etc. You can also take trip to the mountains and visit the Srinagar city. Srinagar is also known for its Islamic style Mughal Gardens.
Egypt - Gizah pyramids of Cairo
The great pyramids of Gizah doesn't need too much explaining. This wonder of the world is even more amazing when seen live. You get the chance to go in to one of the pyramids (we visited Cheops) and see the inner chambers. It's funny how the Sphinx and the pyramids are always presented from certain angle in every movie.. The city border with houses is right next to the Sphinx and on the other side there is just dessert :) You are able to take some nice horse and camel rides around the sand dynes. Remember to bargain hard! Don't forget to visit the Egyptian museum in Cairo - it's well worth it! I usually don't enjoy too much visiting museums but this one is the best I've been to. It's a huge museum with cool artifacts and statues found from the surrounding area.
Australia - Twelve Apostles
A collection of limestone pilars by the Great Ocean Road in Victoria, Southern Australia. Driving the great ocean road is an experience as such with some nice places to feel the laid back feeling of Australia. The Twelve Apostles look especially nice during the sunset and can even redefine your perception for a great view!
While traveling in Victoria make sure you also visit the Phillip Island to see the Penguin parade, which happens right after the sunset (the penguins come to shore after a day of fishing in the sea). There is also a great wildlife park on Phillip Island where you an see all different kangaroo species, wallabies and many other interesting animals in bigger fenced area. There you can actually get close to them! Don't forget to visit Melbourne as well.. but remember.. Don't say you like Starbucks! People in Melbourne pride themselves with their coffee. You are able to visit some of the finest cafeterias and maybe even get you cup of latte served by a waitress who has coffee plants tattooed all over her body :)